It all starts with the soil.
From sandy soils of Conner Lee Vineyard, in the Columbia Valley; west to the petrified tree fossils lining the soil in StoneTree Vineyard, in the Wahluke Slope; southeast to the loam soils of Red Mountain, our grapes are survivors. Our vines endure blistering Eastern Washington summers and icebox winters- they say what doesn't kill you makes you stronger? This torture by Mother Nature yields bold, structured and complex reds and rich, fruit-driven, whites.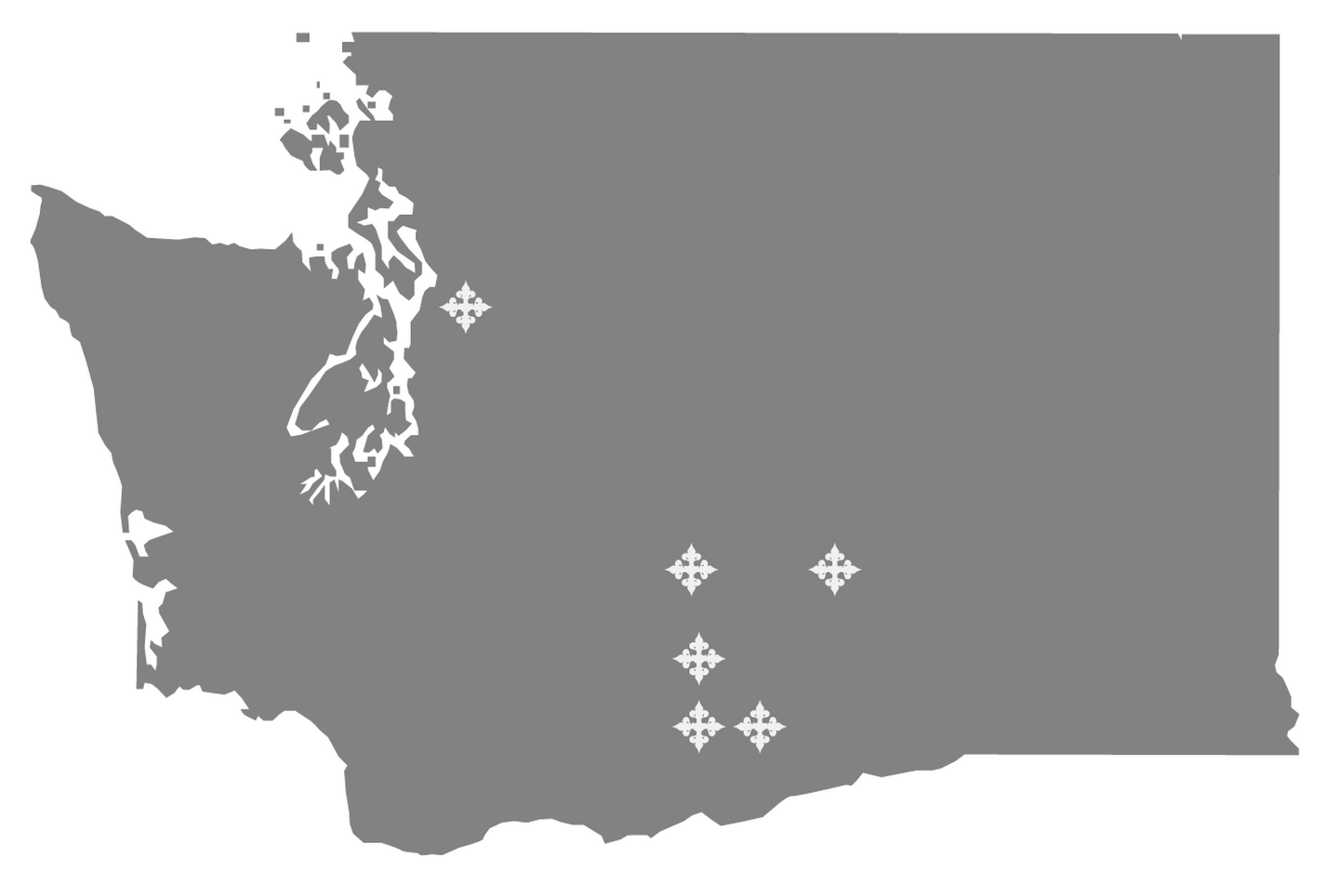 Conner Lee Vineyard
AVA: Columbia Valley
Managed by: Josh Lawerence
Conner Lee is a gem, a vineyard with history dating back more than 35 years (which is a long time for Washington!).
Planted in the 1980s, in the sandy, loamy soil near Othello, Conner Lee specializes in Cabernet Sauvignon, Cabernet Franc, Chardonnay, Malbec, Merlot, Syrah and Viognier.
Since the very start of our winery, Conner Lee has been synonymous with Gun Metal, our flagship Bordeaux blend. The cooler temperatures at this vineyard, mixed with the ideal wind and soil conditions, are perfect for this velvety wine.
StoneTree Vineyard
AVA: Wahluke Slope
Managed by Tedd Wildman
Talk about precision, organization and crazy good fruit. Over the years StoneTree has become our go-to vineyard.
Planted in 2000, these 250 acres are chalk full of petrified goodness. The name of the vineyard derives from the number of petrified tree fossils found in the surrounding hills. The vineyard is located on a gently sloping hillside northwest of Mattawa surrounded on one side by the Columbia River and on the other by the Saddle Mountains.
Klipsun Vineyard
AVA: Red Mountain
Managed by: Gaspar Roby

Located on the southwest slope of Red Mountain, Klipsun grows some of Washington's finest grapes. The soils are primarily Hezel and Warden soils.
Named one of the Top 25 Vineyards in the World by Wine & Spirits magazine, Klipsun primarily grows Cabernet Sauvignon, Malbec, Merlot, Sauvignon Blanc, Semillon, and Nebbiolo. The 120-acre estate was founded in 1982 by Patricia and David Gelles.
The Terlato Wine Group acquired Klipsun in early 2017.
Obelisco Vineyard
AVA: Red Mountain
Managed by: Marshall Edwards
This is red mountain at its finest. This hot, arid and stubborn landscape produces fruit that wows us with its tannins, it's structure and beauty year after year. The rocky, volcanic Red Mountain landscape was transformed more than 12,000 years ago when the receding Missoula floods dropped rich sandy loam deposits and created a fertile new hillside.
Obelisco was planted in 2006 and as a partnership between Doug Long, Paul Kaltinick and Dick Shaw. Managed by Marshall Edwards, this vineyard produces classic Red Mountain Cabernets and gorgeous Merlots.
Quintessence Vineyard
AVA: Red Mountain
Managed by: Marshall Edwards
A newcomer on the vineyard scene, Quintessence has quickly garnered the attention of wine drinkers, critics and winemakers.
The vineyard owners took a unique route when developing Quintessence back in 2010, they worked directly with the winemakers to lease blocks of land with planting and vinticulture specifications set by the winemakers. Giving wineries such as ourselves the ability to plant our own vineyards
For Guardian, we planted 22 acres of Cabernet, Merlot, Syrah, Cabernet Franc and Petit Verdot. These blocks, planted in 2011, are big fruit-driven blocks showcasing the soft dusty tannin backbone so common in the best Red Mountain fruit.